prev review | next review | index
John Gray — Al Qaeda and What It Means to Be Modern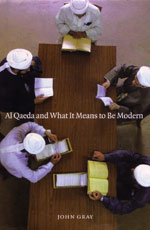 By examining the popularly accepted notion that "September 11th was an attack on modernity by Islamic Fascists," John Gray show us clearly that radical Islam is indeed like fascism, and this is due to its being unequivocally modern.
Here's one of the few books that can help a person not entirely conversant with Islam understand how the maniacs who brought down the twin towers were not really part of an "Islamic Fundamentalist" organization. Whoever plotted the attacks (and the jury is still out on that unless your critical thinking also succumbed that day), Al Qaeda's popular image as a 'medievalist' sect advocating a return to a time of donkey carts and un-amplified calls to prayer is dead wrong. No one will ever understand Al Qaeda just by trying to understand Islam. In this book we learn that in order to understand Al Qaeda you need to understand certain Enlightenment ideals, why they emerged, and what strains of thought they spawned. History shows us why and how these Enlightenment ideals formed into the twin poles of neo-liberal free market ideals and Bolshevik tendencies, both of which are currently pursued by major powers. The fact that these will engage in inevitable conflict this century is another discussion. What needs to be understood is how much Al Qaeda is influenced by these ideals, not just how "Islamic" they themselves may or may not be.
What this book does a great job of noting is that Al Qaeda sees itself in decidedly Western terms, in fact - as a "vanguard" seeking to shape the world its own way. And it defines itself in terms of its reactionary opposition, having been born on the borderland between two sides of the same Enlightenment coin. Extensive commentaries on the Qu'ran bombed in Tora Bora notwithstanding, it is not Isamic Law that we need to be biting our fingernails about. Al Qaeda is for sure against both sides of the two-sided coin of the post-Enlightenment debacle, and will be effective in disrupting the Pax Americana for an unforeseeable duration. But how much of this is due to the thinking behind "Islam" vs. the fact that as an organization, Al Qaeda resembles more the criminals it perceives and seeks to destroy more than any of the 'fundamentalists.' To be sure, there are Islamic Fundamentalists, but Al Qaeda is not to be counted among them. The point is not to say that Al Qaeda are un-Islamic or anything of the sort, but rather that they are modern and far more enmeshed in secular-minded Western ideas than most realize. The book is great in that it cuts right through all the faux-sentimental shock stories that funnel readers into mere humanitarian pity for the poor downtrodden Muslims, and as well avoids all that dumb-headed, disingenuous apologia for Islam as "one of the world's great religions" that's been "hijacked" by a bunch of crazed medieval motherfuckers — all these idiotic things that are designed to help justify our deluded, noble efforts at the "liberation" of the poor "primitive and backward" Muslims. No, there's no Right or Left here. Just a little shift in the usual perspective to the wide-angle lens. Leave it to a professor of European thought at the London School of Economics to see the forest for the trees.
prev review | next review | index