estradasphere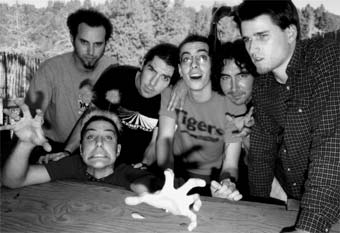 Estradasphere's approach to music blurs the lines between traditional and experimental forms, with a provocative mix of composition and improvisation. These accomplished musicians blend and contrast styles in compelling and sometimes shocking ways. Their art is not an experiment. It is passionate and alive because of their deep understanding and mastery of the individual styles of music they play. Estradasphere's music is cerebral, vibrant, and daringly playful. The Estradasphere experience includes passion, humor, and at times, awe-inspiring brilliance. Their music is complex yet inviting, seducing the listener across time, space, and genre. Estradasphere shows are intensely dynamic: outrageous yet introspective, tongue-in-cheek yet sincere. Every show is unique, never ceasing to stir excitement and challenge the audience's expectations. They continue to expand their performance experience, appearing at nightclubs, festivals, universities, symphony halls, theaters, and even circuses.


Future performances by this artist:

This artist has no shows currently listed in the Calendar.

Passion for Life
DVD + CD
(WoM 015) - Mar. 2004

The insatiable minions who make up the always-growing Estradasphere peanut gallery ought to be delighted by this live DVD-and-CD package, released on the heels of their Quadropus album and tour. Fans of this powerhouse unit of ultra-eclecticism will be treated to an inside look at how their favorite proponents of the "aural collage" can just make it happen without the usual smoke and mirrors... Whaaaaat? No laptops? No samplers? To those enamored with the recent, ahem, "progress" made in those areas, good old-fashioned musicianship might seem a bit odd. But "odd" hasn't ever been seen as a bad thing in Estradasphere-land. Consult the DVD for proof; it was shot from a diehard fan's perspective (and beautifully, we might add). You'll see all the weird personality quirks as band euphoria trades off with the turbulent demands of excessive musicianship. Various band psychodramas are completely real, but seem more and more like a big joke as they get played out-- sometimes making it all the way to the stage! And going on tour just amplifies that kind of thing to the point of no return, which somehow ends up enhancing the music in unique and indescribable ways. The theory at Mimicry is that the key to Estradasphere's continuing success is that they are a live band first and foremost. Plop in this well-made DVD and see the proof, or throw in the CD and reminisce until their next tour. So you'll know.

2+ hour compilation of live Estradasphere footage
Includes music video for "The Silent Elk of Yesterday"
Extra footage of performances with Secret Chiefs 3 and Farmers Market
Features full-length commentary by the band

Quadropus
(WoM 013) - Nov. 2003

The latest studio album from Estradasphere.

On Quadropus, the band navigates terrain usually reserved for people who take themselves quite seriously. Who's kidding whom? These guys could eat most of the Downtown pros for breakfast. It's finally evident that the shameless flaunting of the inner-dork that has banished Estradasphere to the annoying joke bin is not by any means the end of the story. Not because the band is ever going to be considered cool or anything pathetic like that, but because how they craft their music has changed into something a lot more listenable. For instance, the ultra-electronic-sounding dub / drum'n'bass of "Dubway" is done entirely a capella. Their version of an old Greek Rembetica song stays pretty true to the original, even through the wall of guitars and double kick drum at the end. "Speck" is a nice and creepy ballad, like Mazzy Star doing a Nino Rota cover. Their ridiculous, Godzilla-sized, demented "funk" song "King Krab Battle " sounds like well over a thousand people playing at once. Sheer primal madness. The Bulgarian-influenced, crowd-pleasing "Hardball" is a tight-as-fuck trip down Estradasphere lane, only better than before. Also includes a video for "Body Slam."

Mekapses Yitonisa
Dubway
King Krab Battle [mp3]
Speck
Hardball [mp3]
A Car Ride in Idealistic Ethiopia (Part 1)
Crystal Blue
Jungle Warfare [mp3]
Bodyslam
At Least We'd Have Today [mp3]




Buck Fever
(WoM 008) - 2001

Buck Fever
The Dapper Bandits
The Silent Elk of Yesterday
Crag Lake
Meteorite Showers
The Bounty Hunter
Super Buck II
Millennium Child
Trampoline Klan
Burnt Corpse
Rise 'n Shine
The Bride of the Buck
A Very Intense Battle
Green Hill
Jove Malle de Mone / Feed your Mamas Meter (remix 2001)
What Deers May Come




The Silent Elk of Yesterday
(WoM 009) - 2001

The live Estradasphere EP. Some studio tracks with over an hour of live Estradasphere.

The Silent Elk of Yesterday
Crag Lake
Millennium Child (live)
The Dapper Bandits

Live performances:


The Ventriloquist Choir
Mikapses Yitonisa
Burnt Corpse
Rise n Shine
Disco Time
A Tune By F.F.C.
The Princes of Xibalba
The Penguin
Techno in the Style of Burning Man
Some Turkish Song
Aunt Nellie's Love Gravy
Medley #3
Some Irish Song
Hunger Strike (Ending)




It's Understood
(WoM 005) - 2000

Hunger Strike
Cloud Land
The Transformation
Danse of Tosho & Slavi / Randy's Desert Adventure
The Trials and Tribulations of Parking on Your Front Lawn
The Princes
Los Días Sin Días
XQuiQ
Hunnahpu & Xbalanque
Spreading the Disease
Planet Sparkle / Court Yard Battle
D-flat Hell