prev review | next review | index
Alim Qasimov Ensemble — The Legendary Art of Mugham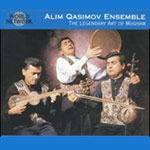 Azeri music is already the greatest thing ever. With people like Rahman Asadollahi, the world's most gifted gorman (Azeri/Turkish accordian type thing) player still walking the earth, still playing music that was once scored for orchestras with Tar sections, multiple Qanun's, string sections, Daf sections, piano, and Saz sections — with Russian neo-romantic counterpoint dovetailing with Persian and Turkish monophony — one wonders if maybe we're a little spoiled when a guy like Alim Qasimov makes the rounds too. We first encountered Qasimov on a low quality video tape, and literally could not believe our ears, much less eyes. It just didn't seem possible. There must be some mistake. Then we picked up this and two other CDs of his that are out there...
Here, we'll just quote the liner notes: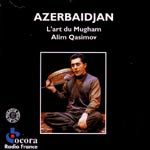 "Major newspapers, including Le Monde and Frankfurter Allgemeine Zeitung, have written of his 'magical voice.' Alim Qasimov has enthralled audiences in Central Asia, the USA, Europe (especially France), Japan and even in Teheran. While the Breton singer Eric Marchand regards him as the best singer in the world, Jean During, the French expert on Central Asian music, is wary of such claims for any musician because, as he explains, they are necessarily based on specific aesthetic criteria of the individual musical culture in question. Nevertheless, During makes no secret of his enthusiasm for this exceptional singer, and even admits that, 'Perhaps such a claim can indeed be made in Qasimov's case, if one takes into consideration such factors as the art of modal composition and improvisation, the virtuosity of vocalization, the choice of lyrics, the purity of articulation and cohesion with the melody, the range and spontaneity, but above all, the art of involving the audience, touching the listeners and enchanting them time and time again with all manner of moods and sentiments, without seeming pretentious or artificial.'"
Well at least we're not the only one's on earth who can't stop the gushing rant when it comes. What, you want people to BEHAVE THEMSELVES when THIS kind of shit is going on??? People who make a concerted effort to avoid mediocrity rarely find time to calm down...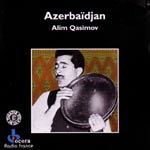 Hey, the Mansurov brothers, the Tar and Kemanche players, are right up there with Qasimov by the way... now you get to expand all notions of "improvised music," and put Mugham up there with Raga and Dastgah forms. There's no turning back from here. Track 2, Mugham Shour could be... well, why say anything else? You're either sold on this or you're asleep & ought to just go gargle with some battery acid, ya hopeless fuckwipe.
prev review | next review | index