prev review | next review | index
Bernard Parmegiani — De Natura Sonorum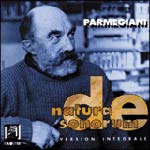 The "Sound of Nature"? Or the "Nature of Sound"? Natural and electronic sounds collected and assembled (1975) and processed electronically into what is clearly one of the true masterpieces of acousmatic electroacoustic composition. Master of subtlety and timing, Parmegiani takes us into a world of delicate and refined clusters of sound, swirling around, popping and crackling like waves breaking onto beaches of lava. The definition and resonant qualities of his tones are unparalleled, and provide the listener always with a refreshing experience whether they're hip to the Ina GRM thing or not. Parmegiani has always been a real composer & not just a math dork screwing around with sets of algorithms. Actually a lot of the Ina GRM stuff fares better than other electronic music on that score - in terms of "compositional awareness?" which is not to say that they weren't screwing around endlessly with sets of algorithms! They just knew why they were doing it. (Actually, why are we using past tense?) And when you consider that even with G5s and all the best plug-ins and programs on earth, no one is ever likely to come up with "better" electronic music than this 30 year old piece, it ought to tell us something. No, it's not about "analog" or any of that. It's about the composer.
We've been living with this piece for a long time, and maybe the best thing I can say without writing a 5,000 word essay is that there's something strangely uplifting about all these sounds. It's sort of like walking in a forest on a sunny spring morning and seeing everything sparkling with life — you might feel dwarfed by the incomprehensible sophistication of it all, but the general simplicity behind all of that is even more apparent when the brain gets eclipsed by the immanent beauty of what is incomprehensible to it. This is one of the rare occasions, then, where the reigns on life can be easily given over to the powers outside of "self" — electroacoustic soul music? Maybe so. We are led through this music to the precise spot where the "mundane" senses come into play as organs of theophanic visions. This is our experience of it time and again.
Corresponding to such a mode, or simply to the world of sound ideas, De Natura Sonorum is above all a celebration of the very fact of hearing itself. There is no question that it can serve as a kind of "ear training" for many of the hidden the potentials locked in the phenomenon of sound and hearing.