prev review | next review | index
Harry Partch — The Delusion of the Fury: A Ritual of Dream and Delusion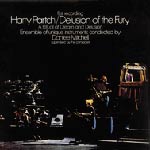 The American genius' masterpiece (we think so at least). An innovator not just in tonality, which he is well-known for from having invented his own 'microtonal,' ratio-laden musical system and theory, as well as creating the instruments that could accomodate such music, Partch was also unique in his approach to performance. Sort of like a musician's Artaud, he expected his performers to also be mimes and actors — his compositions were larger in essence than things that come by way of mere instrumental prowess. For this reason, many of his performers did not necessarily need to be classically trained musicians. This seems strange to some, since many excellent well-trained musicians can find his music to be be extremely difficult to play. It's possible that prior training might be more of a problem than an advantage in this case. The simple will to play it right counts for a lot in music — more than 'ability' in fact. Learning a new music theory can be far more vexing than learning a new language.
In The Delusion of the Fury Partch's music takes on a primordial complexity. Like an aural snowflake, it's a very organic-sounding mathematicism that is comprehensible and immediate, unlike a lot of other 20th Century "avant garde" music. Even when it goes California 1969 on us there's an inoffensive charm to its faux-primitivism that makes you actually stop and go, "hmmm... this isn't even really pissing me off." Because Partch has a way of turning the difficulty of pulling off a big-scale production like this (all unique instruments in a world of institutionalized music-ism) to and immediate poetic benefit somehow. It's about the setting, the people, the times AND his composition that he labored over for two decades. It's clear that he intuitively understood the only real mountain-moving force — the ancient art of magic. But Partch had the accompanying brains to create it by fashioning its specific instruments, and then knowing how to get people to do their parts right; if you're composing (not improvising) you have to know what the piece demands, and not deviate from it. Like a slow motion ritual. That's the part that's usually sacrificed at the altar of modernity, robbing art of its natural dignity. Luckily Partch was at the right place at the right time (despite his being a penniless hobo at one point, & getting royalty checks for $1.90) and had people to help him implement his important visions. In the land of the "free" that's the best any Mozart can hope for, and Partch and his supporters did very very well.
With this recording we should all be inspired, if not flatly intimidated by the legacy we have to live up to.