prev review | next review | index
Pig Destroyer — Prowler In The Yard and
Thirty-Eight Counts of Battery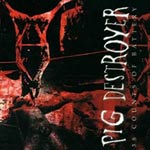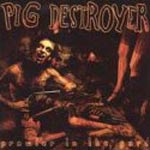 Thank God someone decided just to let it all come out for once. Whiny meathead angry white boy tough guy metal gets its throat cut by the little serial killer that came to "liberate" this music. Pure mania. Finally.
These Virginians lit a fire that we hope will burn down the citadels of False Metal on both coasts.
Some may see it as hardcore. Understandable — there are more "old school" metal elements here than many people might realize at first, because it's so fucking out of control. But this is metal, there's no mistaking it. It endures too. These CDs have been around a couple of years and still nothing recent has hit this level of murder-intoxication... not even close. Good lyrics, too — our theory is that anything this bloodthirsty and insane could only be due to the emotional vexations that come with the curse of high IQ. The redneck dipshits who have cornered metal into a box have NO idea... more power to Pig Destroyer and everything in their psychic zone.
We can hear it now.
[this sucks, it's all distorted - the sound quality is shitty]
Oh just fuck off, will you please?
If the fire is in your heart & not just in your fragile little head, buy this.
Oh, and if any hipsters try to tell you how much cooler Agoraphobic Nosebleed is, just go ahead and smack them one.