prev review | next review | index
Scott Walker — Scott Walker 1 - 4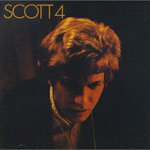 (Special mention for 4)

Well...
There's certainly no need for "Emo" anything when Scott Walker records are in circulation. Oh, except that nobody feels emotions like this anymore, I forgot. Yeah. Well, ok then - we're just nuts.

The Angels of Ashes will give back your passions again and again
Their light shafts will reach through the darkness and touch you my friend
They'll fly in a mind dance and blind you with wings wrapped in flame
If you're down to an echo they just might remember your name
In the unbroken darkness where emptiness empties alone
There's no starting or stopping, with them there's no right or no wrong
Well that's alright for some who can hang the absurd on the wall
If your blind hands can't grope through these measureless waters, you fall
You've been following patterns and fleeting sensations too long
And the fullness that fills up the ponds of duration is gone
Let the great constellation of flickering ashes be heard
Let them burn with a fire, all it takes to confess is a word...

Besides our bias towards Mr. Walker due to his courageous and unapologetic indulgence in some serious soul-baring dandy poeticism, everything else good about the '60s is also here. We're talking about the orchestral scores with the warm vocals swimming on top & plate reverb and an excellent semi-clumsy rock rhythm section. Just great. It's dark, progressive pop. And Walker is the "singer songwriter" to shame them all, with an orchestra recorded on fresh Telefunken tube microphone pre-amps, or some such. People into the Zombies and late Beach Boys might want to shoot some heroin and go into this one deep. Don't expect it to hit you over the head. That's not how it works. And we're not talking about Dashboard Confessional here, so if you shed a tear it just means you're a man and not a mouse...

Please, don't let the more clued-in indie scenesters be the only ones to look back and appreciate this guy (and his work with the Walker Brothers). He deserves better than to be confined to the fucking kitsch closet with all the other nudge nudge wink wink items on every scenester prick's CD shelf.

"Boychild" could be our favorite song on earth.